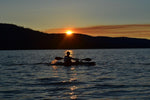 What Is The Best Kayak Life Jacket For Me?
If you are looking for the right kayak life jacket for you, here is help. There are many different types of life jackets, each designed for different purposes and needs. Click on each section to learn more.
If you are looking for the perfect kayak life jacket for the best price, contact us.
Kayak Life Jacket Information
Discover which type of kayak life jacket is best for you
1. Flotation Device Classifications
There are 5 different classifications or types of life jackets and flotation devices.

Type 1: This is the only type of life jacket that includes a neck support that is designed to keep your face up when you are in the water. If you are unconscious in an emergency situation then this type of life jacket will keep your mouth and nose out of the water by turning your body face-up in the water.
This type of vest should be used if you are in rough water conditions and are in a boat that is far from shore. It is also best for situations when a rescue may not be possible right away.

Type 2: This type of life jacket is more comfortable to wear than the type 1 style. If you purchase an inflatable version, then it can turn you face-up in the water. This type of life jacket is best for close-to-shore boating where you are likely to be quickly rescued in an emergency.

Type 3: This is the most common type of life jacket for water sports including kayaking. They are very comfortable to wear especially when you are paddling. You should use this type when you are on calm waters that are inland.
Inflatable versions of type 3 vests can turn you face-up in the water, however, you may need to tilt your head back to avoid flipping face down.

Type 4: This type is a device that is meant to be thrown to someone who has fallen overboard. It isn't meant to be worn but instead, you hold onto it to stay afloat until you are rescued.

Type 5: Type 5 flotation devices are very comfortable to wear and most are designed to inflate automatically when you enter the water. They are used for certain water activities such as kayaking or as a work vest.
Look for a Type 3 when choosing a kayak life jacket
2. The Best Type of Kayak Life Jacket

Here are some of the best styles of kayak life jackets available and why.
It features:
It features:


The Connelly Classic Neo life jacket is a U.S. Coast Guard approved Neoprene vest.


It features:

This kayak life jacket is manufactured without the detrimental lamination and gluing process, which makes it incredibly eco-friendly.


O'Brien Mens Neo Flex Life Jacket
It features:



3. Difference Between a PDF, Life Jacket and a Life Vest
The terms PDF, life jacket and life vest are used interchangeably and refer to a device that is used to prevent you from drowning. PDF stands for personal flotation device.
A PDF is a garment that you wear that will help you stay buoyant in the water and keep you afloat. If you are unconscious, then only a Type 1 life jacket can keep your mouth and nose out of the water.


A kayak life vest can help save you from drowning
Cottage Toys Has the Best Selection of Kayak Life Vests
Cottage Toys has everything you need to have fun on the water including kayak life vests. We have 3 convenient locations or if you prefer, you can shop online on our website.
For more than 24 years, Cottage Toys has been serving Canadians with high quality products at incredle prices. Our business has grown to become one of Canada's largest and most reputable retailers of watersports and surf lifestyle.
We have an incredibly knowledgeable staff that is ready to answer any questions you might have, and we offer you great prices on all of our products.

We are a Canadian retailer who supports grass roots events for water sports in Canada as well as many charities in our local communities.

Contact us today to get started enjoying the amazing water sports Canada has to offer.

"Best selection, best prices, best quality.  This store has great customer service.  I always leave very thrilled with my purchase.  The Lakefied store in the summer is like a candy store for fun on the water."
- John, Peterborough Landscape Supply